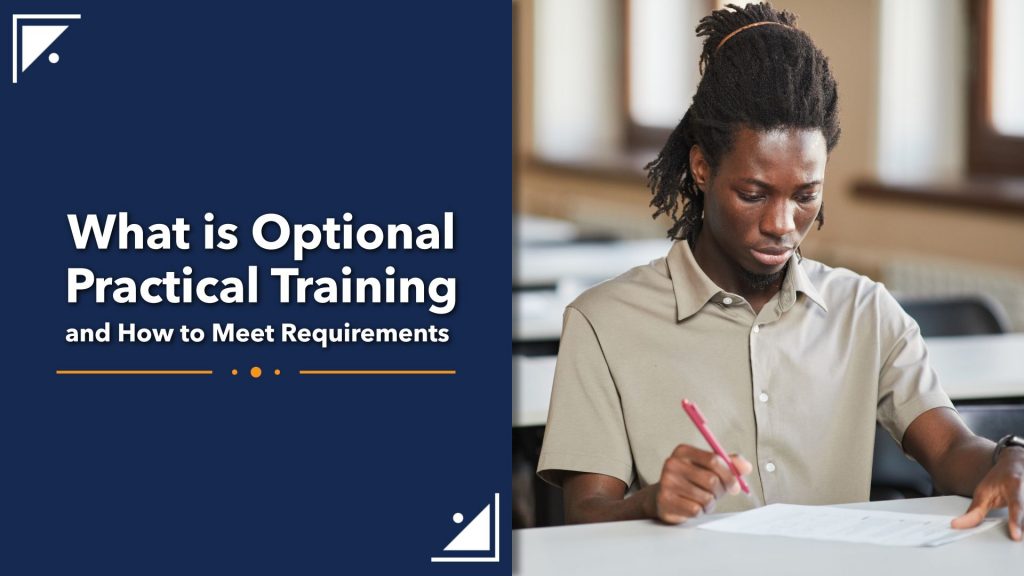 As an international student, you may be eligible for practical training related to your field of study. One type of training that may be available to you is Optional Practical Training (OPT).
Let's discuss what OPT is and the requirements involved to be eligible for this popular training.
What Is Optional Practical Training?
Optional Practical Training is extracurricular, real-world training, F-1 students like you may want to consider. Rather than an integral component of the school's required curriculum to complete your program, OPT is an extension of your education that can help you gain valuable career experience. This training may assist you with your employment in the US, during and after you complete your studies.
Types of OPT
Three types of OPT exist per the US Citizenship and Immigration Services USCIS:
Pre-completion OPT – Any OPT portion you use before your program end date
Post-completion OPT – Any OPT portion you use after your program end date
Cap-Gap OPT Extension – Available if your prospective employer submits a qualifying H-1B-cap subject petition
24-month STEM OPT Extension – Available if your primary course of study is for a DHS-approved degree in a field of Science, Technology, Engineering, or Math
A Pre-completion OPT can be either full-time or part-time, but a Post-completion OPT can only be full-time.
To qualify for a STEM OPT Extension, you must have completed your allotted 12 months of regular OPT.
How to Meet OPT Requirements
To participate in OPT, you must meet all eligibility requirements and complete the authorization process.
Eligibility
To qualify for OPT, you must be enrolled in college, or another qualifying post-secondary educational program, for at least one academic year.
You are only eligible for OPT in your major field of study. One exception to this is if your major is English as a Second Language (ESL), in which case you cannot qualify for OPT.
You can only participate in 12 months of OPT per educational level. When you advance to a higher level of education, you can receive authorization for an additional 12 months of OPT. That means you can apply for 12 months of OPT at the Bachelor's level and another 12 months at the Master's level.
You do not need to conduct your OPT before your program end date and may do so afterward. If you begin OPT while school is still in session, you can only participate in OPT part-time, up to 20 hours per week.
Regardless of whether classes are in session or not, you can only begin OPT after the start date listed on your work permit.
You are ineligible for Optional Practical Training (OPT) for at least 12 months if you participated in full-time Curricular Practical Training (CPT), the other form of practical training available to F-1 students.
Note that full-time CPT participation at the same program level while enrolled at a different school applies toward your allotted 12-month total for that level at your current school. Participating in CPT at another program level, however, does not impact your OPT eligibility.
Authorization
When you request your Designated School Official (DSO) recommend OPT for you, the DSO will enter the recommendation in the Student and Exchange Visitor Information System (SEVIS.) Your DSO will then print and sign a new Form I-20 affirming the OPT recommendation.
Upon receiving your new Form I-20, you must complete Form I-765, Application for Employment Authorization, and mail it to the US Citizenship and Immigration Services (USCIS) with a filing fee. USCIS will then authorize you for OPT and issue you an Employment Authorization Document (EAD,) commonly known as a work permit.
You can take advantage of OPT multiple times as long as it is related to your education. However, you cannot participate in more than one OPT at once or overlap OPT periods.
Overview of the OPT Authorization Process
The OPT authorization process requires you, your DSO, and USCIS to each complete the following steps:
You request OPT through your schools' established procedures.
Your DSO recommends it for you in SEVIS and provides you with the appropriate documentation.
You file a Form I-765 with USCIS applying for OPT.
USCIS adjudicates your application.
You receive your EAD allowing you to report to your DSO and start work.
Within 21 days of your receipt of your EAD, your DSO must update SEVIS with your employer's information.
USCIS must receive your application for OPT within 30 days of your DSO entering your OPT recommendation into SEVIS. USCIS will deny any applications received more than 30 days after your DSO requests it for you in SEVIS.
In Summary
Optional Practical Training is separate and distinct from Curricular Practical Training your program may require for completion. You should therefore be clear on these distinctions before you start seeking out or accepting training opportunities. If you are an F-1 student at CSI and would like to discuss pursuing OPT, contact CSI online or call 847-967-5030.