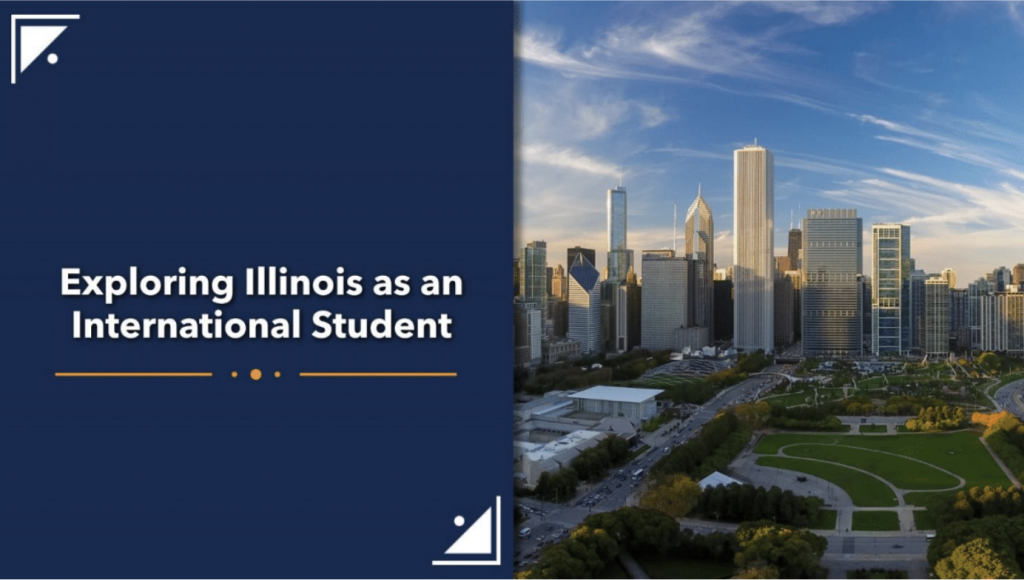 Known for its world-class city of Chicago, the entire state of Illinois offers international students a way to steep themselves in the culture and history of America beyond the classroom.
Chicago
It's difficult to say that you've seen Illinois without at least passing through Chicago. If you're fortunate enough to live and study in The Windy City, a never-ending array of attractions and sites of interest are at your disposal.

Lake Michigan
Chicago sits along the shores of Lake Michigan, one of the Great Lakes. You can sail the waters on one of the many boat cruises or enjoy a stunning skyline view of the city from the many accessible towers along the piers.
Historic Chicago
Among its multitude of historic sites, Chicago contains a striking array of National Historic Landmarks, including the following:
Location of the First Self-Sustaining Nuclear Reaction
Chicago also contains several historic districts to explore, such as the Bishop Hill Historic District, Fort Sheridan Historic District, Nauvoo Historic District, and Riverside Landscape Architectural District.
Skokie
Called the "World's Largest Village," this often-overlooked Chicago neighbor to the north offers many things to see that are not the typical tourist attractions.

For instance, it boasts not just any art or history museum but the revered Illinois Holocaust Museum. Formerly a German farming community, Skokie became home to Jewish Europeans fleeing Nazi occupation. As such, throughout Skokie, you can learn a great deal about the Jewish immigrant experience in America.

A town whose name comes from the Indian word for "marsh," Skokie also boasts the Mitchell Museum of the American Indian.

In the way of historical and cultural sites, Skokie offers its own half-sized replica of the Leaning Tower of Pisa. Even its parks are more than plants and flowers alone, such as the Skokie Northshore Sculpture Park. Other popular natural settings to see are the gardens at Emily Oaks Nature Center and the outdoor recreational activities at Oakton Park.
As with many towns with diverse immigrant populations, Skokie has a wide array of restaurants and bars featuring different cuisine, from the locally owned Sketchbook brewery to Libertad (Latin American), Psistaria (Greek), and Pita Inn (Mediterranean).
Lombard
This village is a suburb of Chicago located in DuPage County and offers a city's worth of attractions.
Yorktown Center
This historic and cultural center of commerce is where you'll find local shops and eateries providing the flavor of the area.
History
Explore the rich history of the area and the state at Lombard's many local landmarks and historic sites.
Lombard Historical Museum
The Lombard Historical Museum is three museums in one, comprised of separate Victorian-era buildings to explore and discover the history of Massachusetts in the Victorian era along the way. 
Sheldon Peck Homestead – Built in 1839
A carriage house – Authentic and original
The Victorian Cottage Museum – An actual Victorian cottage displaying common household items used by the middle-class 
Maple Street Chapel
Beloved by the whole region, regardless of religious affiliation, this is one of the area's first and most beautiful, treasured buildings. Featuring American Gothic architecture and classic board-and-batten design, it contains "grisaille" stained-glass windows and humble elegance.
Nature
Lombard and its surroundings are replete with picturesque natural beauty, containing a bounty of parks and other outdoor settings where you can breathe in the clean Illinois air.
Willowbrook Wildlife Center
This animal rescue facility in Glen Ellyn combines exquisite flora and fauna all in one park. Willowbrook provides needed medical aid and care to orphaned and injured animals. Visitors can safely view the animals as they're treated and cared for. There's also a trail you can walk to visit the permanently disabled animals who now reside full-time at the Center.
Lilacia Park
Of all the parks in Lombard, Lilacia is the one not to miss. This gorgeous setting features an extensive collection with 50 varieties of tulips and 200 varieties of lilacs.
Page BreakIllinois Prairie Path and the Great Western Trail are rail-to-trails
These easily accessible rail-to-trails link 10,000 acres. There are 500 miles of footpaths winding through local parks and county forest preserves.
Fun Recreational Activities
When you want to take a break from studying and bond with your eclectic classmates, consider some of these other fun activities:
Enchanted Castle
Lombard Roller Rink
Paradise Bay Water Park
Safari Land
In Summary
Studying in Illinois affords international students the chance to extend their education beyond the classroom into the lives, histories, heritages, and cultures that make up this "Land of Lincoln" and "Prairie State." 

Computer Systems Institute has three campuses in Illinois: Chicago, Skokie, and Lombard. Discuss your possibility of studying with us by calling 847-967-5030 or filling out the form.