Computer Systems Institute is dedicated to serving our international students from all over the world. Having served students from over a 100+ countries, CSI accepts international students through transfer, abroad, change of status or reinstatement.
F-1 International students have to abide by immigration regulations as defined by Student and Exchange Visitor Program (SEVP). Our highly qualified Designated School Officials (DSOs) are available to assist international students before, during and after their studies at CSI.
Students can get more information through Orientation and Webinars conducted by CSI in relation to F-1 International Student status. Please check your Event Calendar in the Student Portal for more details.
If you need assistance or need to contact a DSO with any questions, please refer to the Campus Contact Information on the Student Portal or email dso@csinow.edu. For Illinois email dso-il@csinow.edu and for Massachusetts email dso-ma@csinow.edu.
Read more about Curricular Practical Training (CPT) or Optional Practical Training (OPT).
For Regulations and other information related to International Students you can refer to: https://studyinthestates.dhs.gov/students
To enroll as an international student at CSI from abroad, see steps below.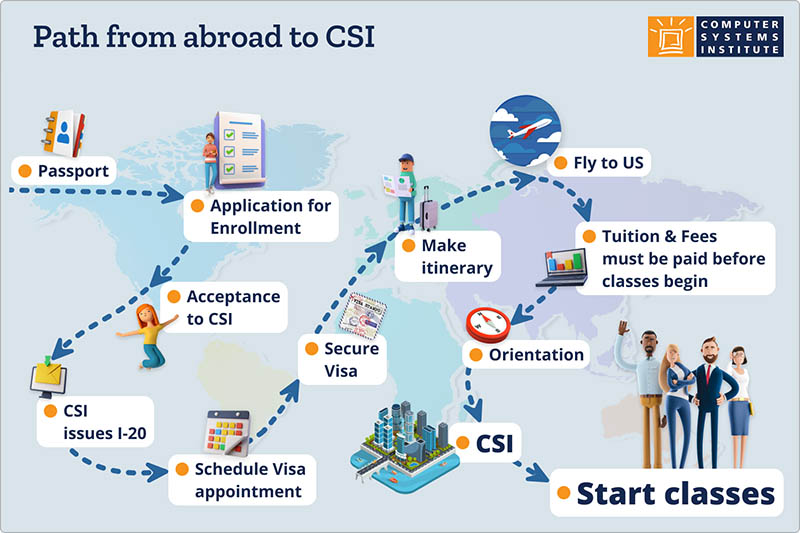 To apply to CSI from abroad, click here.
Immigration Webinar below:
Illinois DSO Webinar for International Students:
Massachusetts DSO Webinar for International Students: