Welcome to CSI!
Computer Systems Institute (CSI) is a dynamic institution providing career-focused high-quality programs designed to enhance job opportunities for our graduates and provide a skilled workforce for the community. We strive to achieve this by employing qualified and enthusiastic professionals who create a stimulating learning environment and deliver effective career development services.
Founded in 1989 with the goal of bridging the gap between employers and a shortage in IT professionals by providing training to students and connecting them with employers. Today, CSI is much more: It has grown, student services continue to develop and the opportunities available to students are greater than ever. CSI offers a diverse range of courses, including business, hospitality, customer service, computer science, and healthcare. CSI has six campuses across Illinois and Massachusetts (Allston, Charlestown, Worcester, Chicago, Lombard, and Skokie).
Through new partnerships with local colleges, employers and organizations CSI continues to grow and expand its opportunities for students. CSI's focus on helping students gain the academic skills, knowledge, and support they need to reach their personal and professional goals is stronger than ever.
CSI Vision:
To build a community where transformative experiences help each student reach their full potential.
CSI Mission:
We empower students to realize their career and academic goals by providing industry-relevant education through:
Career-focused academic programs
Practical application of learned content
Student-centered services and activities
Comprehensive career services
Click to access Achieving Greatness – Aligning purpose, people, and values for Computer Systems Institute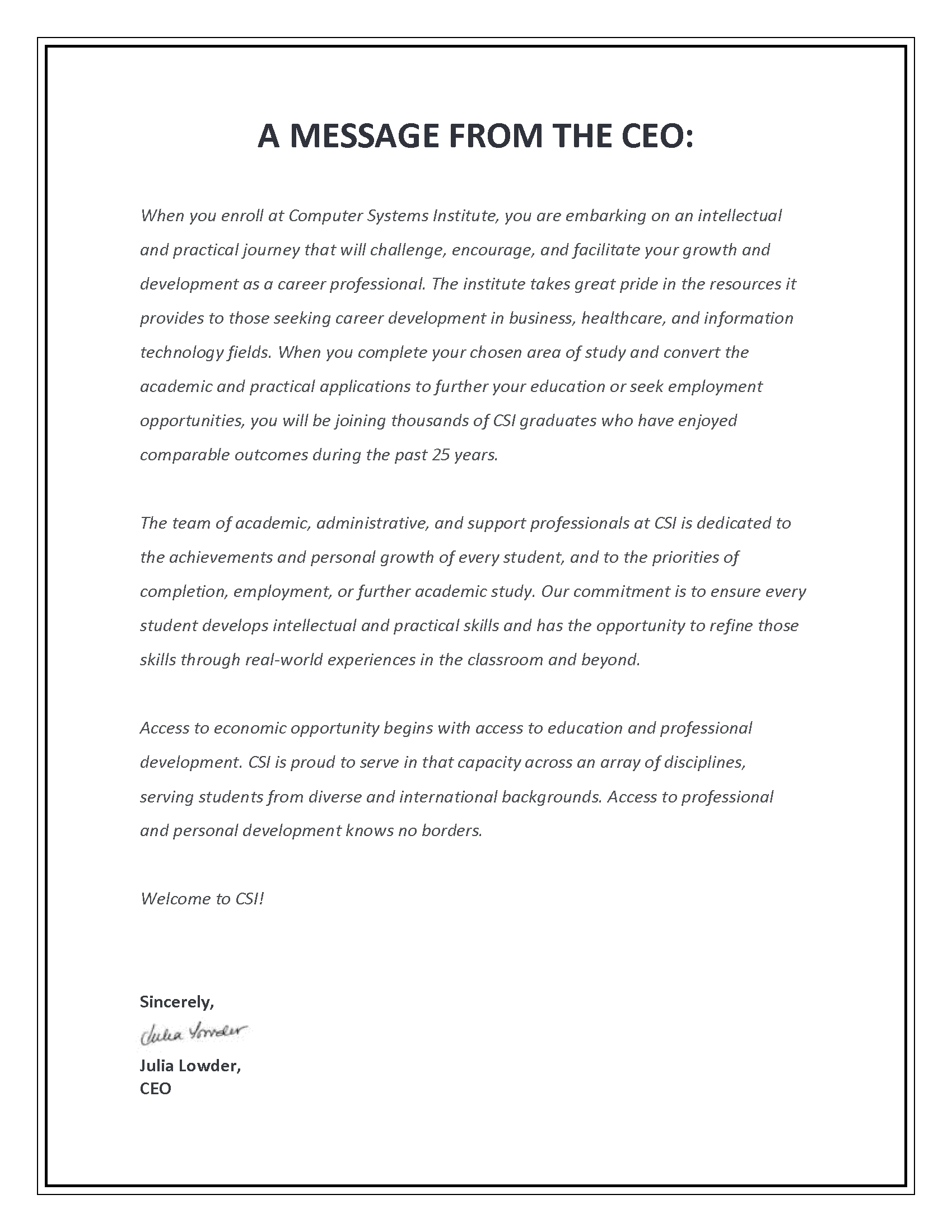 Career-Focused Education at Your Fingertips.
We are dedicated to helping students gain the skills and support they need to reach their goals. Whether you are looking to start a new career, improve your professional skills, or pursue further academic study, CSI can help.
Choose from Our Available Programs
#WhyCSI
Learn more about why students like us here.
Accredited: For postsecondary, non-degree granting, career and technology programs by the Middle States Commission on Secondary Schools of the Middle States Association of Colleges and Schools, 3624 Market Street, Philadelphia, PA 19104, (267) 284-5000