We are pleased to announce that Computer Systems Institute (CSI) is now accredited for postsecondary, non-degree granting, career and technology programs by the Middle States Commission on Secondary Schools of the Middle States Association of Colleges and Schools, 3624 Market Street, Philadelphia, PA 19104, (267) 284-5000.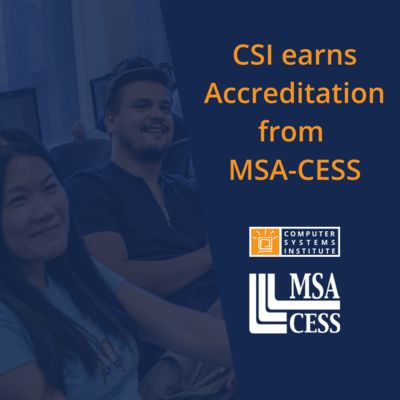 "CSI changed my life." —MSA-CESS included this student quote in their report as a reflection of CSI's dedication to its students.
This speaks volumes to us, as these are the words we strive for every student to whole-heartedly believe after their time learning and growing with CSI.
Julia Lowder, CEO of Computer Systems Institute, stated in response to the announcement,
"All of us at CSI are thrilled to receive MSA-CESS accreditation! Accreditation is a crucial aspect of higher education that ensures quality, credibility, and accountability. For CSI, accreditation assures students that the education they receive meets high standards of quality and rigor. We take great pride in our commitment to providing a high-quality education that meets industry standards and prepares our graduates for success."
About the Middle States Association Commissions on Elementary and Secondary Schools (MSA-CESS)
MSA-CESS is an institutional accreditor recognized by the U.S. Secretary of Education. Their mission is to improve the quality of education by assisting schools to achieve excellence through accreditation, thereby affirming a member school's trustworthiness and commitment to continuous improvement as well as by providing a network and resources for continued success. CSI is proud to become one of MSA-CESS's more than 2,700 member institutions worldwide.
What Accreditation Means for CSI and CSI Students
Accreditation is a testament to our dedication to provide high-quality education—and it will open the door to many new opportunities for students.
There are many benefits to accreditation through MSA-CESS. These benefits include further improved quality of education through the action plan CSI developed for accreditation, a stronger community bond between faculty and students, and an increased sense of pride for CSI. Accreditation also validates the integrity of our programs and student transcripts, which may help students to transfer certain credits to other higher education institutions.
CSI is honored to receive accreditation from MSA-CESS, and we look forward to the continued growth of our students and entire community as a member institution.