By Snezana Stojilkovic; Chicago, Illinois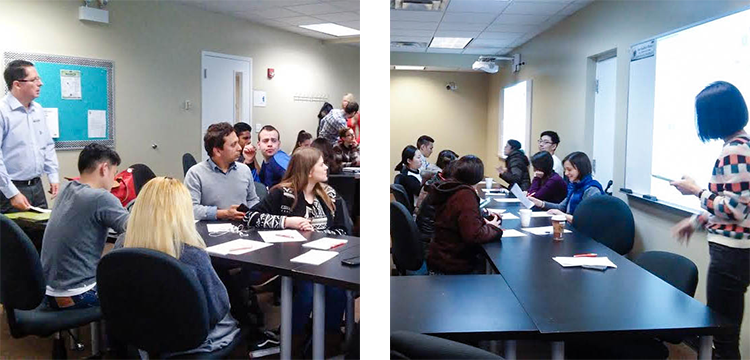 (Photo: International Student Social Networking Event in Downtown Chicago)
A couple of weeks ago I started thinking about my future at the CSI. My school year was almost over, and I had couple of choices: to continue with the Academic ESL program: to take Literature or Communication course, to drop out of school (big no no) or enroll to a different program. I was browsing the school website looking for information or some ideas, and come across the Skill Building Program. I checked it out: it suddenly sounded challenging, but at the same time very interesting, especially Sales and Marketing Professional program. The program focus is on public speaking, creating a business plan, developing the marketing strategy (particularly on social media), etc. It is designed to help students understand the world of marketing and to prepare them to enter that would as a well-read professionals.
Just around that time it happened that I saw a flyer for an event at school: Skill building networking. As a journalist – I am well aware that contacts with different groups of people can make your job much easier, since people are the best source of information. But the good network of diverse people is essential for anyone who have pretense of being a successful in any business.
Curious by nature, I wanted to see what it was about, so I went with one of my classmate, thinking it won't hurt me, and it could help me to make a decision about my future steps within the school.
"The whole idea of school social event was to create a real situation where students might encounter different people and have to cheatchat with them"
and have a polite warm up conversation before real stuff, trying to get some information that will be helpful in the future, or share some information about business they're doing.
We were seated in two groups across each other. The task was to have 5 minutes long conversation with a student you were facing – that's being called speed networking. Remember, time is money, and in the business world you have to be fast, convincing, and precise. Our hosts were wise enough to mix the groups, so friends or classmates couldn't talk to each other. It was funny to watch two girls not wanting to separate from each other, reluctantly accepting firm instructions. The goal was to help students with uneasiness that comes with talking with completely strangers (which happens a lot in every business meeting, or with potential clients). After time came up, one of the groups were shift to the left for one seat, so each student could encounter the new face. And that process was repeated over and over for an half an hour.
My first partner was a girl from Poland, second from India, couple of girls from China, and the last one from Colombia. Most of the time we were asking each other about our backgrounds, about program we were enrolled in at CSI. Since I was really interested in externships, I was curious and anxious to find out more about Skill building programs, their instructors, how classes were organized, etc. I got many useful information. But, besides that, it was fun to talk to all of them. I had a chance to recommend my favorite book to one girl, to share my experience as a journalist from back home, to learn about some good Chinese restaurants in Chicago, and in the end one girl told me that I looked like a nice person, that she enjoyed our conversation and she asked me if I want to have a cup with her someday. I gladly said yes. You can never know, it might can be a start of a nice friendship. 🙂
What I noticed that evening was that students were more relaxed with each new person they had to talk to. First time is always the hardest one, isn't it? The level of noise were increased, which was a good sign. You could occasionally hear laugh, so I believe that students had a good time.
At the end, we had a chance to talk to an employee from the PNC bank, Michael Jung about employment opportunities in the bank he works for, different types of credit cards, importance of building and having a good credit score in the USA, and much more. Since the students were full of questions for our quest, I decided to do an interview with him, and help you choose the right credit card and resolve any doubts you have about them. Check us later again, it's coming soon!