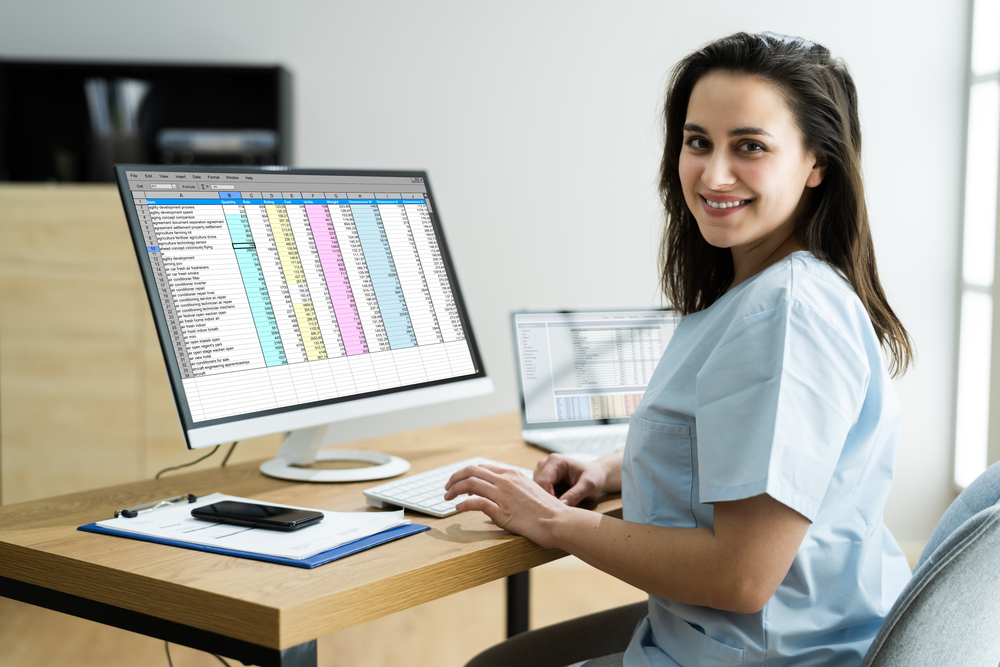 Healthcare is an admirable, rewarding profession. That's why it should come as no surprise that it's "the fastest-growing sector of the U.S. economy, employing over 18 million workers," according to the CDC1. Healthcare is particularly appealing because there are a variety of job functions available, many of which don't require any previous medical experience.
If you want to be an integral part of healthcare but aren't keen on going to medical school, don't sweat it. Professionals who focus on the information needs of the industry (medical billers, coders, and receptionists) work in a variety of health-related settings, such as hospitals, administrative and support offices, nursing care facilities, and physicians' offices. The best part? You can land one of these sought-after jobs by securing the following industry certifications:
The AHIMA Certified Coder Associate
The NHA Certified Billing and Coding Specialist
The NHA Certified Electronic Health Records Specialist
The most effective way to earn these certifications is by enrolling in a career-focused program that includes certification exam preparation. Programs like Computer Systems Institute's (CSI) Healthcare Career Program Billing and Coding Track do just that – in ONLY. 12. MONTHS. You will learn everything you need to know to seamlessly transition from student to knowledgeable professional when you join the workforce.
Your Inside Look at Medical Billers, Coders, and Receptionists
Want to know more about these healthcare jobs? Here's an overview of the daily responsibilities you will be expected to take on:
Medical Billers manage payments on patient balances and submit claims to insurance companies. They are also charged with:
Entering data with proprietary billing software
Submitting claims to insurance companies
Following up with patients, healthcare professionals, and insurance providers to make sure claims are paid for
Managing account payments and invoices
Investigating rejected or denied claims
Ensuring physicians and patients receive reimbursements from insurers
Verifying the accuracy of standard healthcare codes used by medical coders to classify services and products
Medical Coders are responsible for communicating with physicians, nurses, and other healthcare professionals to categorize the services a patient has received. Specific responsibilities include:
Applying CPT, HCPCS, and ICD-10-CM/PCS standardized codes to patient records to accurately reflect the services received
Entering data through the Electronic Health Record (EHR) and Electronic Medical Record (EMR) software used in hospitals and physicians' offices
Examining operative reports used during surgery to apply procedure codes
Performing medical chart audits when a claim is denied
Staying up-to-date with the latest revisions to coding standards and federal regulations
Examining patient charts and histories to ensure coding accurately reflects a patient's medical care
Medical Receptionists greet patients, schedule appointments, and maintain records. They also focus on:
Keeping patient appointments on schedule
Answering patient questions
Maintaining the reception area and office inventory/equipment
Filing and retrieving patient records
Maintaining patient accounts by obtaining and updating personal and financial information
You can find comfort in the fact that opportunities in this line of work are on the up and up. In fact, the projected job growth from 2019 to 2029 for Medical Records and Health Information Technicians is eight percent (AKA much master than average!), according to U.S. Bureau of Labor Statistics.2
Why CSI
Our affordable Billing and Coding Track will give you more than hands-on experience. You will have the opportunity to build strong relationships with knowledgeable instructors who are invested in your success. From day one, you will start gaining the skills you need to achieve your academic and professional goals. We also offer evening course options to fit the needs of busy, adult learners. Need we say more?
Get in Touch!
If you are ready to jumpstart your healthcare career, reach out to a friendly and knowledgeable CSI Admissions Representative at 1-888-910-5083 or csiadmissions@csinow.com.
---
1 "CDC – Health Care Workers – NIOSH Workplace Safety and Health Topic." Centers for Disease Control and Prevention, 13 Jan. 2017, www.cdc.gov/niosh/topics/healthcare/default.html#:~:text=HEALTHCARE%20WORKERS,-Related%20Pages&text=Healthcare%20is%20the%20fastest%2Dgrowing,employing%20over%2018%20million%20workers.
2 "Medical Records and Health Information Technicians: Occupational Outlook Handbook." U.S. Bureau of Labor Statistics, 1 Sept. 2020, www.bls.gov/ooh/healthcare/medical-records-and-health-information-technicians.htm.
---