By Shakhnoza Raimjonova; Skokie, Illinois
Universities and colleges in Chicago welcome international students for attainment and pursuing the education of their dream. The international student community provides them with the supporting systems and give new students a lift to start their new life. Our hectic and developing life continues to present them with more than they expect. Now, successful international community centers are developing new programs to help new visitors from their countries. These programs provide international students with the opportunity of exchanging ideas, as well as sharing experiences. Uzbek students utilize these resources to support their compatriots with more information about education opportunities in Chicago.
Recently I sat down with Eldor Ashurov, member of the Uzbek American Association of Chicago, and Shakhnoza Djurakulova, guest speaker of the association and Project Manager of Discover Financial Service, to learn their success stories and their ideas of helping Uzbek students in Chicago to success.
Shakhnoza: How does the Association contribute to the improvement of students' life and education process?
Eldor Ashurov
: Our Uzbek American Association in Chicago is open for everybody at the present time. We usually organize projects for everyone, but you know, there are many students who come recently and have many questions on how to adapt for American life, how to take part in some educational projects or alter their study in our projects. We present them such an opportunity that they are able to connect others have enough experience and achievements in this society. Naturally, in this circumstance, they can obtain necessary information from not only experienced Uzbeks, but people who are from Central Asia. Because members of other nations are interested in participation in our events, too. I can say without any doubt, this serves to provide new students with beneficial information. Today, we are carrying out our first special project for students and it is named "Student Success Workshop".
Shakhnoza Djurakulova, is one of the successful Uzbek students who have completed her master degree here. She is able to work in US because of the high quality education she received here and she considers herself as the one of the happiest and luckiest Uzbek who has achieved her American dreams. "Student Success Workshop" is the chance for her to share her knowledge and exchange ideas with others.
Shakhnoza: Based on your experience, what challenges and possibilities Uzbek students have in Chicago? How are they able to overcome challenges, to utilize their possibilities during their education here?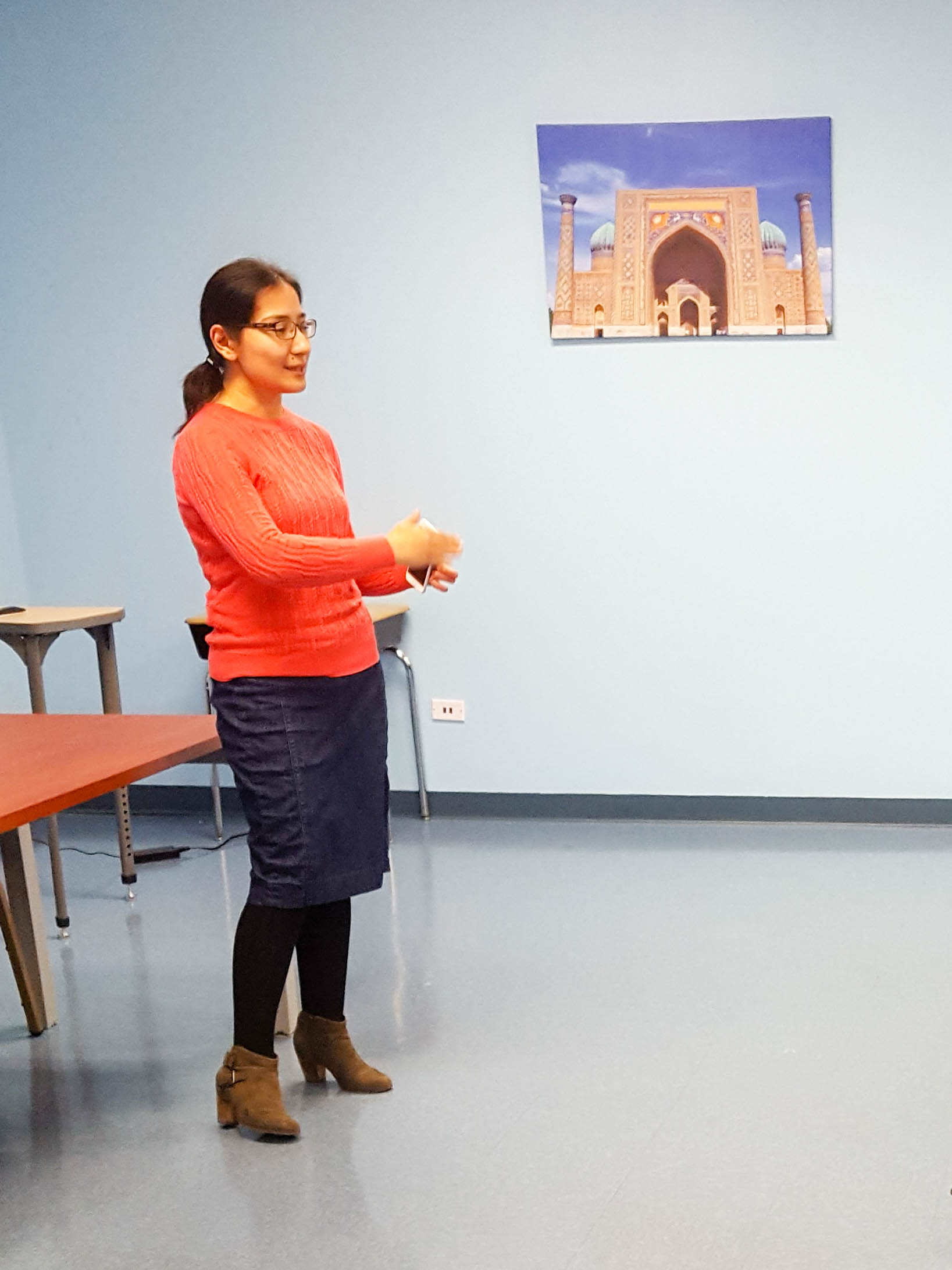 Shakhnoza Djurakulova
: I came here in 2008 to pursue my Master's degree in Financial Economics at Illinois State University with my husband and there were not many Uzbeks who know the education system of this country. Fortunately, nowadays, the number of active students and experienced Uzbek professionals is increasing year by year. To my perspective, it is so important to share our experience with new students, because if you pay attention to other developed communities and their fellows, students are giving lift to each other. For instance, if somebody find appropriate job for their career, education, they must not stop at this point, they should share this process how they achieve in their life with others. Usually, when some Uzbek students write to me on LinkedIn I try to answers for their questions, give advises to them with pleasure. Because somebody may get success in his or her career because of your support. Today, I made a presentation about how to get a job in the financial services industry. I strongly believe that, this Workshop will be helpful to new Uzbek students to have good career.
The United States has become one of the largest destination for international students from Central Asia; Uzbek student population is among the top of them. Because they know what benefits, possibilities will have in their future career after graduation. At the present time, the number of international students is increasing year by year and it shows that about 30 percent of overall growth of foreign students from our region.
Related Readings
Kyrgyz Community in Chicago
What Does It Mean To Be An International Student?
Chasing the American Dream