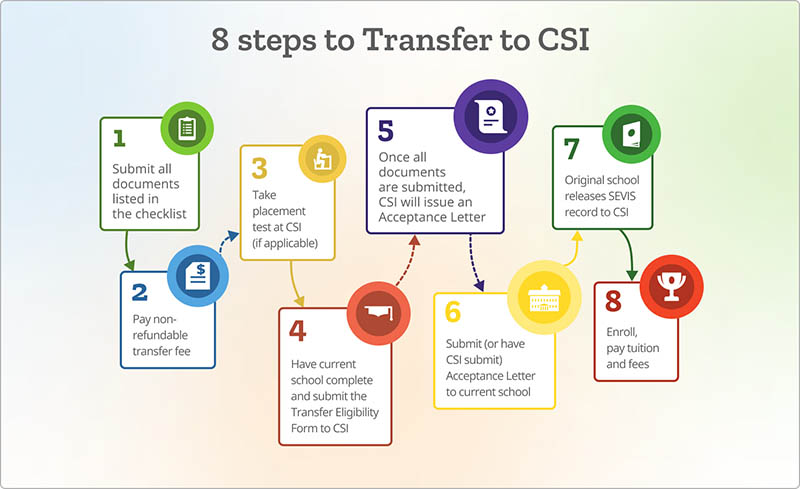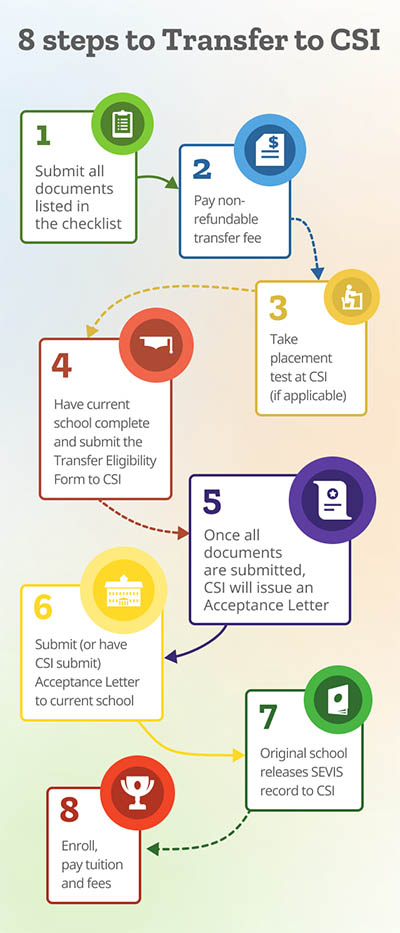 CSI is more than happy to welcome students from other SEVP-certified schools. CSI offers a wide selection of courses designed to help you succeed. Check the list of available programs here.
If you are transferring from another U.S. institution, please contact an international admissions representative at 1-847-967-5030 as soon as you decide to study in one of CSI's programs.
International Students
Any student who wants to succeed in the U.S. can take advantage of our extensive business courses. International students* must follow a few extra steps to enroll in the CSI program. Keep reading for a full list of requirements.
* An international student is any student who is not a citizen or permanent resident of the United States and its territories.
In addition to the standard requirements, international student applicants must complete the following steps:
Submit an International Student Application for Admission. The form can be found here: Application Form Request.
Send a bank statement.
Give a personal statement (must be signed and stamped by the bank if from a non-USA bank).
If you will be financially supported by a U.S. citizen or resident or someone outside of the U.S., submit an Affidavit of Support and a support letter from a bank, parent, guardian, sponsor, or government agency and their original most recent bank statement. Make sure that the support form lists the supporting funds that cover your tuition, cost of living, and at least $3,000 for each dependent who is listed on the I-20.
Submit original and English translations of official transcripts or diplomas from secondary schools and colleges attended.
Submit a CSI Transfer Form, filled out and signed by your current Designated School Official.
Computer Systems Institute will issue a new I-20 form upon receiving all necessary documents and fees as described above.
Please note: CSI accepts payments made by certified check or money order drawn on a U.S. bank and payable in U.S. dollars or by credit card. We recommend that you start the process at least 30 days before the target class start date. For more information on international student F-1 visa processing, please refer to the SEVIS-Student and Exchange Visitor Information System.