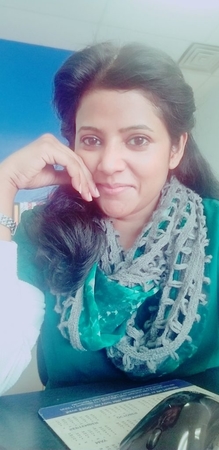 Affordable tuition rates, flexible schedule options, and knowledgeable instructors with real-world experience: all of this and more makes Computer Systems Institute (CSI) a leading provider of business, IT, and healthcare programs. But what really sets CSI apart is the intangible things. It's the personalized attention you will receive from our faculty and staff members alike. It's the universal commitment to your success. At CSI you are more than a number; you are our first priority, always. Just ask recent graduate Nighat Yousaf.
Nighat, a Pakistan native, learned about CSI through a friend who knew she was looking for an affordable program that would allow her to improve her language skills while continuing her studies. After Nighat enrolled at CSI in 2014, our reputation was put to the test – and did not disappoint.
According to Nighat, "At the beginning of my first class at CSI, my instructor encouraged me and my classmates to speak in English, even if it made us nervous. Her encouragement and being surrounded by people with varying accents increased my understanding of the language, which was something I initially struggled with. Now when I return to my home country, my English skills and the knowledge I gained through my studies will set me apart from others."
CSI Education = Professional Success
Nighat says the education she received at CSI was second to none, particularly when it comes to our Customer Service Specialist Program. She was able to learn and master customer relationship management techniques, strategies in service operations, and customer service communication. She also gained valuable hands-on experience using these skills during her externship with IDOF, a Mediterranean and middle eastern restaurant in Chicago. Nighat quickly proved her skills and wowed her manager with her know-how.
"Because CSI's Customer Service Specialist Program so effectively helped me polish my skills and taught me how to communicate with customers and build relationships, the owner promoted me to manager and let me run the location," says Nighat. "I owe this success to CSI because I was able to apply everything I learned to my role."
Eyes on the Prize
After spending several impactful years at CSI, Nighat transferred to Elmhurst College to pursue her Master's in Product Management. Her end goal: work in a management position at a leading company.
While Nighat has transitioned from student to alumna, she says she will always remember and cherish her experience at CSI. "I spent five years at CSI polishing my abilities, and know what I learned will allow me to work in any big organization with confidence. CSI taught me how to work professionally and excel in a working environment. I recognize how I developed my skills from their help, support, and professional guidance."
Follow in Nighat's Footsteps!
CSI gives students from around the globe the opportunity to build their English skills and get accustomed to the U.S. education system, all while earning invaluable skills that will set them up for professional success or further academic study – or in Nighat's case, both! Your ticket to a personalized, student-focused education is just an email or phone call away. Reach out to a member of our Admissions team at csiadmissions@csinow.edu or 1-888-910-5083. We promise they will help you every step of the way!
---