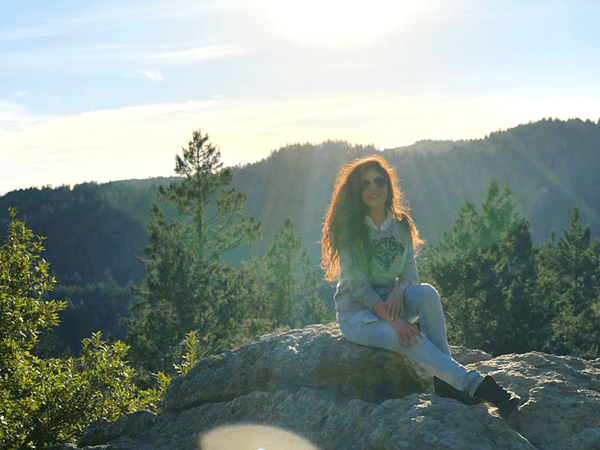 Please meet Snizhana Kolesnyk from Kyiv, Ukraine. Snizhana lives on beautiful Cape Cod in the town of Yarmouth. She is also a student at Computer Systems Institute (CSI) Allston, MA having started in July, 2018. For those of you who do not know where Cape Cod is in relation to Allston, please take a look at your google maps. You will probably say at least two things: it really looks beautiful there (it is!) and wow, that is a long way from Boston (it is!) It takes a little over six hours a day for the roundtrip to and from Cape Cod and CSI. Snizhana travels by bus and then subway. Snizhana says "but hey, we all invest time and effort in our education. J It is worth it to me to live on Cape Cod by the Atlantic Ocean. It is also worth it to me to travel this far to CSI. After all, I came all the way from Ukraine!" Also note that despite the formidable commute, Snizhana has achieved 100% attendance for several quarters.
She has traveled quite a lot, not only in the USA, having visited Florida, New York (her dream was to first visit Miami and then Manhattan; that's what initially brought her to the U.S.), California, Nevada and Illinois, but also around the world. She has been to Austria, Poland, Georgia, Montenegro, Cyprus, Bulgaria, Turkey and India.
She says that Boston is one of the best cities from what she's seen! It has beautiful architecture and a smart composition of buildings and parks that allow you to always find shade in the summer and visit nice places in winter. She always enjoys her time at school, but the bonus part is spending a day in Boston after classes. She's toured the Museum of Fine Arts already, but the list of must-see places has expanded to include the Museum of Science, the Isabella Stewart Gardner Museum, and the Harvard Museum of Natural History.
She holds a Master's degree in Management from Ukraine, and the Business Career Program she is currently enrolled in fits perfectly with her future business plans in Ukraine. She likes to keep her plans simple and attainable, so after graduation she'd like to work and travel in the USA for about a year, and then go back to Europe and open a coffee shop with fresh pastries in downtown Kyiv. She feels her time in the USA and at CSI is laying the groundwork to successfully undertake this venture.
It was during her visit to Boston that she became aware of CSI through mutual friends. She visited the Allston campus and immediately felt that being a student here would be beneficial in helping her achieve her business and career goals. She also liked the community atmosphere at the CSI Allston campus and really loved the Allston neighborhood, which is very diverse, urban and culturally varied.
Her CSI instructors like Mel and Sheryl to name a few make the lessons informative and interesting, so she really enjoys the courses. She states that we have a lot of interactions in class that get students involved and thinking, and they always bring up important, relevant and practical things and make everything easy to understand. She is really enjoying her time at CSI, in Boston, and in the USA.
She further states the courses in the BCP program that are very applicable to her future business plans include Principles of Sales and Marketing, Applied Business Concepts, Customer Service, Financial Services, Computer Applications 1 and 2, Intro to Small Business Management. She says she would not come all the way from Cape Cod if there was little to nothing to gain from the courses. On the contrary, she looks forward to coming to CSI, because she sees the value in the courses mentioned above related to opening and operating a small business. A big value-added benefit of CSI's BCP program is the opportunity for an OPT. She fully intends to do this to apply the skills she is learning, and to get a better idea of how businesses run in the USA. She feels this will be invaluable in getting her business in Kyiv up and running. Snizhana is thrilled to continue her education and gain invaluable experience at CSI as she looks forward to her future.