From the big, bustling metropolis of Sao Paulo, Brazil, population 12.18 million, to Seekonk, Massachusetts, population 15,548 — that kind of change would put anyone into serious culture shock, but CSI's Small Business Administration student Roberto Aparecido and his family took it in stride. They had good friends already living in Seekonk, which is why they chose the town, and they found a welcoming and ready-made community in a local church. No doubt, the large population of Portuguese speakers, shops, and restaurants in their town helped in their adjustment, and that their 7-year-old son was able to enroll in a bilingual school.
Roberto came to the US from Brazil with a degree and many years' experience in Business Administration, seeking to learn English and take his life and his family in a new direction that would challenge all of them to learn and grow. Mission accomplished! He says every day offers new challenges, but "I enjoy challenges." He sees challenges as opportunities to learn, and he does learn, because, he explains, "I like to do things well!" After spending about a year studying English, Roberto enrolled in CSI's Small Business Administration Program. He says he found his Bookkeeping class especially useful, because that is in his area of interest and is something he now uses every day at work. In addition to learning business and technical English, he has picked up some new skills and improved others, and is currently putting it all to use in an externship in a local company that manages construction projects.
The company he works for is small, with only about 10 employees, but the opportunity to learn and utilize the skills he is studying is huge. He says he's quite happy being behind a desk all day, working with accounts payable and receivable, reconciling accounts, using QuickBooks, dealing with contractors, and learning about taxes, laws, insurance, liability, and construction in the US. "It's a new industry, new language, and the laws are different, so I learn every day, but really, working in business administration in the US is not very different than in Brazil."
It's been two years now since they arrived in the US, and Roberto's English has greatly improved. While he doesn't feel fully fluent, and he says that the language is still a challenge, he understands very well and can usually find a way to express his ideas even if he still has to search for words.
Roberto says the whole family has really enjoyed the change of pace. Their life here is quieter and more family-centered; they have a great church and community of new friends, and he says they also really appreciate the safety of their town. They also have been enjoying the countryside and have three parks near their home where they like to go for long family walks.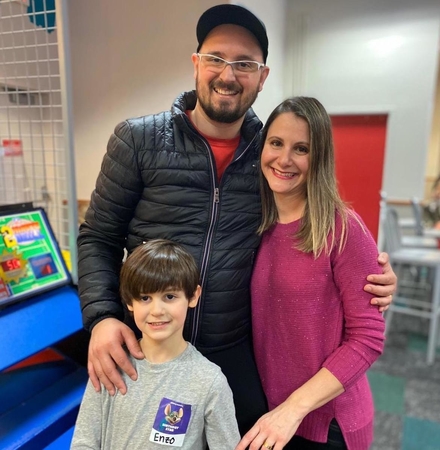 What has surprised him most about the US? All the wooden buildings and the different style of homes. He has been impressed at all the structures and the size of structures that are made of wood here in the US. Another thing that jumped out at him was how much Americans respect the law. For instance, drivers actually stop at crosswalks to let pedestrians cross the street, and generally, drivers comply with laws more here – though he concedes that not all local drivers are polite and the potholes in Massachusetts roads are terrible. He also appreciates the clarity in prices and taxes: "Here you know what you are paying and why, it's murkier in Brazil."
He says the experience has changed him – and all of his family – for the better. "I think that having an experience outside your country is really important for a person. It gives you another view of life, another perspective. When we are away from home – living in a new language and culture, we need to step out of our comfort zone. Here, everyday there are challenges and every day we are learning. It changes your values and priorities." Being an International Student at CSI has been a valuable experience for the whole family, which Roberto will utilize in his future academic and professional pursuits.