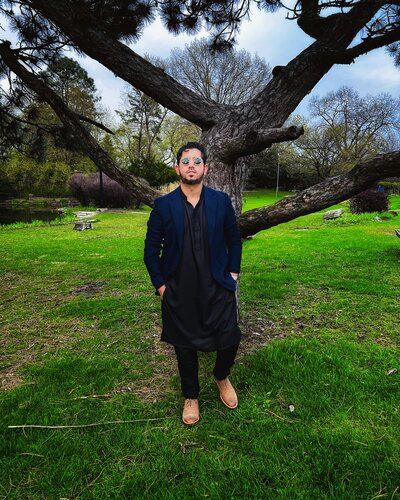 Life was turned upside down for Farrukh when the COVID-19 pandemic hit. As an international student, how could he maintain his student visa status while also seeking out a more affordable program to continue his studies? To find out the next step Farrukh took, we'll first have to take a few steps back in his journey.
Farrukh left Pakistan to visit the U.S. a few years ago, and some friends eventually recommended he change to a student visa to pursue an education and grow his career here. Initially, Farrukh attended Harold Washington College and later transferred to the Taylor Business Institute for the school's English as a Second Language (ESL) program. However, the effects of the pandemic made paying for classes at the Taylor Business Institute difficult.
Still trying to figure out his career path, Farrukh knew he wanted to stay in the field of business, but he didn't quite know where to go next. That's when a close friend back in Pakistan recommended the perfect solution—Computer Systems Institute. While Farrukh's friend had to return home to Pakistan for a family emergency and could not complete his own program at CSI, a positive impression was nevertheless made on him to recommend the school to his friend Farrukh back in the U.S.
After looking through the many programs on the CSI website, Farrukh instantly knew the Hospitality Leadership Concentration was the right path for him.
"I chose hospitality because I thought customer service would be more useful in the future," Farrukh shared. When it came to transferring to CSI, he added, "The transfer process was so easy. I submitted all my documents online."
Through his courses in the Hospitality Leadership Concentration, Farrukh has gained valuable hands-on experience. These skills and experiences help Farrukh, both in his current job at a local cafe as well as help him prepare for a future career in the world of business, hospitality, and customer service. Farrukh noted that the topics covered in his CSI courses, like how to start a business, manage a business, work as a team, plan strategically, be an effective leader, and solve problems, have already made a positive impact on his skills and career outlook.
"I really like customer service," Farrukh explained, adding that "hospitality is like a strategy."
When it comes to his current cafe job, Farrukh excitedly shared how he has been able to actively apply what he's learning at CSI while at work—where a single shift can mean handling up to 300 customers, or sometimes 500-600 customers a day.
"I can face all the problems practically on the job."
Beyond the skills and training received in his program, Farrukh has been more than satisfied with the additional benefits of attending CSI, including great class schedules, studying alongside many international students, and well-balanced course difficulty. With classes on both weekends and weekdays, Farrukh has found making time for school, work, and friends a breeze. The diversity of students from around the world also brings fresh perspectives to the learning environment, while professors never disappoint and are always keen to help when questions arise.
Just as a friend recommended CSI to Farrukh based on his positive experience with the school, Farrukh has followed suit, sharing, "I have already recommended two of my friends to CSI."
The future looks bright now that CSI has helped Farrukh maintain his student visa status while developing key business and leadership skills. He shared how his family and friends are encouraging him to continue his education in the U.S. even after finishing the program with CSI.
"I hope to transfer to a university and complete a bachelor's degree," and continuing that, "my goal is to stay in hospitality and leadership."
If serving others sounds like your calling, just like Farrukh, or if you're interested in CSI's many other businesses, healthcare, or IT programs, you can learn more about our programs here. International students can also explore what student life is like with CSI here.
Contact the CSI admissions team to learn more about our programs by calling 1-847-697-5030 or checking out https://www.csinow.edu/admissions/.