What do you do when the education you received doesn't provide enough hands-on experience in your field?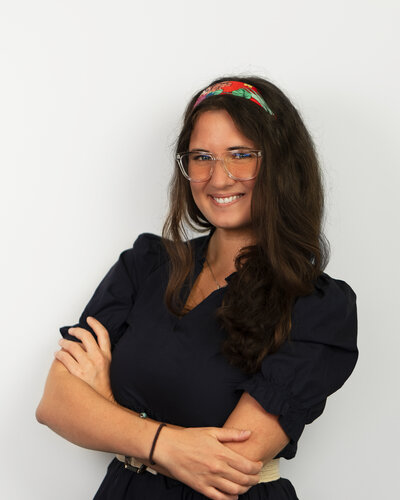 This was the dilemma for Zlata. After completing grad school and earning a Master's degree in Marketing, she quickly found out that what she learned even in grad school wasn't enough to give her the skills and confidence she needed while out in the workforce. Her first post-grad job was working as a marketing intern assistant organizing workshops at a wellness event venue.
As Zlata describes that time, "I took my first job seriously."
She took it so seriously, in fact, that she decided on her own to get additional training in business and marketing. Her roommate was a Computer Systems Institute student and suggested that Zlata also looks into the school's programs. From there, everything perfectly lined up. Not only did CSI offer a Marketing Concentration as part of its Business Career Program—but the Worcester, MA campus was also close to where Zlata was living, and the program was also quite affordable.
"CSI was focusing on practical knowledge, which lured me to CSI," Zlata shared.
She also found the enrollment process just as effortless as discovering CSI in the first place, stating, "Enrolling into classes was really easy, and the student advisor was helpful. I had no issues re-enrolling, no hiccups."
Now having completed her marketing program at CSI, Zlata reflected on the many benefits she experienced with her time at the school. Studying real case scenarios in classes helped her feel prepared for the workforce to apply what she was learning in practical ways. Zlata also enjoyed how her professors were also practicing people in their fields. In her experience, they were also super responsive and willing to give helpful advice.
"You can ask them questions and receive not just book answers," Zlata added.
Another major benefit for Zlata was the ability to take online classes. She joined CSI in 2019 and got to experience the shift from offline to online classes during the pandemic. Zlata described the online classes as "such a relief" with more flexibility and being able to get more done at home while still learning.
Some of the most valuable things Zlata learned in the marketing program, beyond studying real case studies, was getting to learn coding languages like HTML and CSS. This gave her a deeper understanding of the programs and how to work with graphic and web design teams within marketing.
"At first it was quite challenging for me, but it was beneficial for valuable knowledge," Zlata reflected.
Today, Zlata works at a busy marketing agency, where she puts all of her practical knowledge and skills gained from CSI to good use every day. She shared with us how learning about the technology side of marketing, like coding languages, has been the most helpful for her when working with other teams on the job.
Zlata wholeheartedly recommends CSI to anyone in her situation who may have attended a traditional college but wants to continue learning in their field.
"I would recommend CSI if someone was looking for an additional certificate or to gain more skills. It's easy to enroll, and the process is not a headache."
If you want to further your education, gain practical skills, and learn from experienced professors, CSI may be the right choice for you. Beyond our business programs, we also offer programs in healthcare, IT, and ESL. You can fill out our admissions information form online today or contact an admissions representative at 1-847-967-5030 to learn more.