As the snow crunches under foot on a snowy Chicago morning, Stefany De Abreu can't help but to dream a little of the warm, sandy beaches in her native Venezuela. But these dreams are not just about warmer, sunnier days. Stefany is dreaming about the future of her sister's swimwear company, Citera.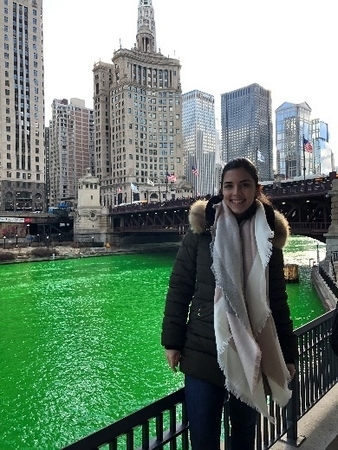 Stefany studied accounting in Venezuela and International Business Management in Canada before coming to Chicago. The city of broad shoulders, with a rich history in economics, finance, and commerce, was a natural choice for her American adventure. Her long-term dream is to become a Chief Financial Officer (CFO), but for now she wants to learn more about how to grow a company through finance. She loves the way that numbers tell a story about a company. They not only tell us about the past, but they allow us to predict the future.
Stefany learned about Computer Systems Institute (CSI) through friends studying at the school. They thought it might be the right fit for her, and they were right. She looked into the Business Career Program (BCP) and liked what she saw. It featured a range of topics that she wanted to learn about, including Finance, Accounting, and Microsoft Word and Excel. Most importantly, though, it provided a structured program to better understand the foundations of entrepreneurship in the United States.
Now, at the end of her third quarter at CSI, she feels that she has accomplished much of what she set out to do and more. She particularly appreciated the opportunity that her last course, Introduction to Small Business Management, gave her. In addition to her dream of working in finance, she eagerly wants to help her sister to grow her swimwear business. Her capstone project for the course pushed her to develop a clearer vision of what is necessary to expand the reach of Citera from Venezuela to the United States.
Citera is a swimwear company that specializes in high-quality, beautiful and comfortable women's swimsuits in an assortment of sizes and styles to accommodate all varieties of body styles and shapes. This mission served Citera well as the company blossomed in Venezuela, and Stefany believes it will succeed in American as well with the right business plan. She wants to work with her sister to bring Citera to Miami, and from there, the rest of the beaches in the world.
Let's remind Stefany that Chicago has beaches, too….but best not to go there in a bikini until the ice melts.