Say hello to Computer Systems Institute's (CSI) International Honor Society! This organization, which held its inaugural induction ceremony in October, is committed to recognizing academic achievement, developing and motivating students to persist in their studies, and preparing students to become leaders in their professional fields of study.
"We know that success is achieved in small increments, one step at a time. Our International Honor Society students have chosen to take their studies seriously, which shows they are committed to doing their best not only in school, but also in life," said Julia Lowder, CSI's Chief Executive Officer. "It is this commitment to shine in everything they do that gives us and everyone around us hope."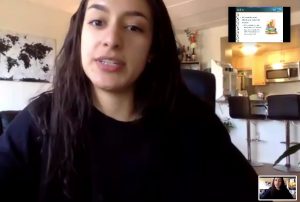 During the ceremony, 193 students were recognized for their academic achievements. As International Honor Society members, these students have agreed to lead by example, both in class and at extracurricular activities. To reward their hard work and dedication, they will receive the following membership benefits:
A letter of recommendation
Access to special campus events for International Honor Society members only
Exclusive scholarship opportunities
For many of these students, the International Honor Society is a testament to their hard work and the support they receive from CSI, their peers, and their families. Here's what some of our inductees had to say during the ceremony:
"Every individual at CSI does their bit to ensure that we as an institute make our way towards a better tomorrow." – Nishit Ghelani
"I take my inspiration from all of the instructors at CSI. I get inspired by their personal stories, how they have come to be part of CSI, and what they have had to go through to be with us. Everyone has been truly amazing and helpful, especially during COVID and remote learning!" -Ina Asparuhova
"Every instructor I have had at CSI has been cheerful. Family plays a big role too. Without their support, it would be harder. And of course, we all desire to succeed in our professional careers." – Heilen Bravo
"Fellow classmates are instrumental in our success too. They give you that sense of community and help you adjust to the school and environment. Being an international student is challenging and it's great to be around like-minded, hardworking classmates." – Joyce Anne Dimaano
Prioritize Your Academic Success with Help from CSI
If you are considering choosing CSI to further your education, you can rest assured that we have a knowledgeable and helpful team that is invested in your success. Our Academics Department is committed to ensuring our students receive a rigorous education and are sufficiently prepared to excel in the workforce upon graduation. Here are just a few of the services our Academics Department provides:
Tutoring services
Help with basic study skills
Mentoring
Workshops
Portfolio preparation
Assistance with resume and cover letter preparation
Learn more!
---